Amy Sneider Shares About Her Experience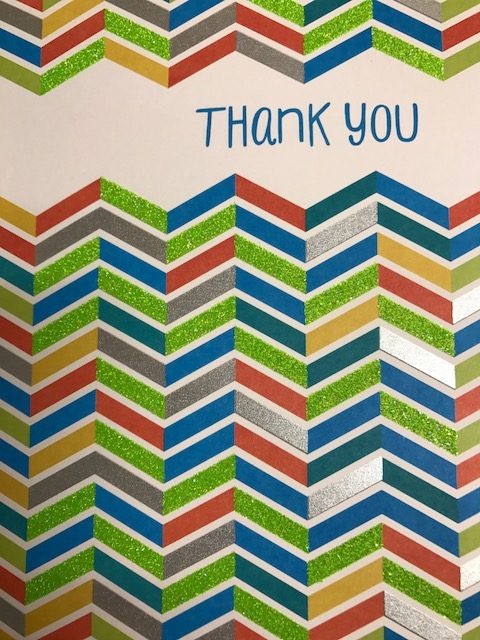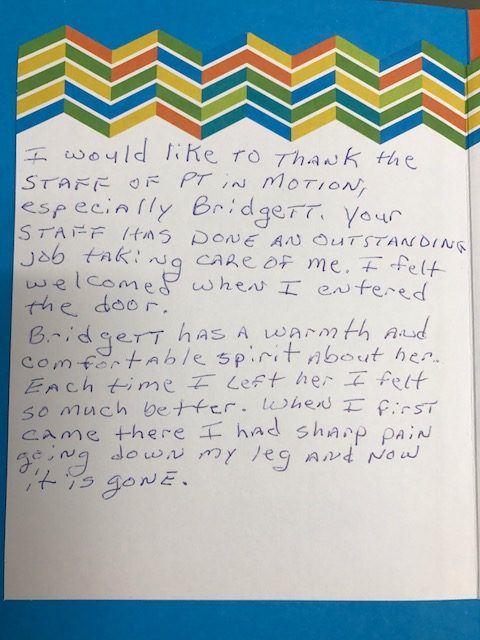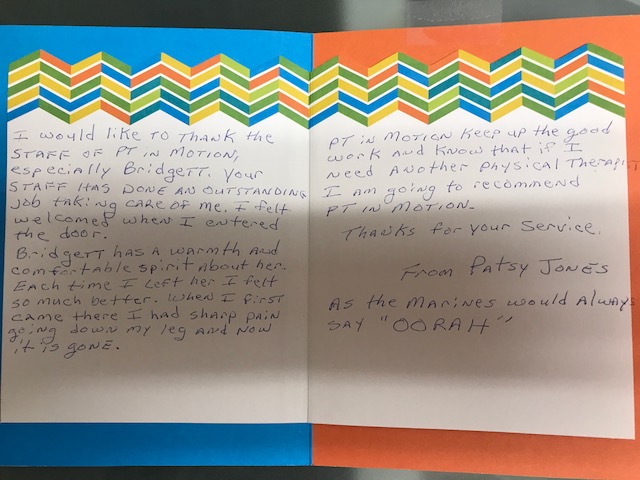 ---
Jody is a phenomenal therapist and the entire staff at PT in Motion are absolutely wonderful. Jody is incredibly knowledgeable, patient and professional. Jody treats my child as her own and ensures my child gets the most out of every session. Jody's work with my child has improved her walking and mobility ten fold. I can never thank Jody enough for all that she continues to do for my child. I recommend PT in Motion to everyone looking for therapy for their child and I will continue to do so. Thank you for providing such a phenomenal staff of professionals.
Donna
---
I want to thank you for the physical therapy servics I received at PT in Motion over the past 15 months. During that time, I worked most consistently with Wendy Tylka, but I also worked with Beth, Chris, Alyssa, and Kim. All of these therapists were extremely professional and well-versed in their craft, helping me gain more body awareness, explaining each new stretch or exercise, and correcting my position until I got a feel for what I was supposed to be doing. Throughout the process, they were invariably positive and personable. Please extend my thanks to all of them.
It was a pleasure to receive physical therapy at your facility.
All best wishes,
Ken
---
My son Tyler receives physical therapy at PT in Motion. I can't speak highly enough of the wonderful treatment that is available to him there. Having a child with special needs can feel overwhelming at times, but when I take my son to therapy I feel encouraged and filled with optimism by the progress he is making. With skill, kindness and empathy, his therapist Kristin Parsley guides and pushes him to reach his full potential. During Tyler's therapy sessions I have been given invaluable instruction which has empowered me to confidently work with my son at home. PT in Motion is a strong advocate for my son, and I am deeply grateful.
Leslie
---
My baby girl Love started physical therapy at PT in Motion when she was 6 and a half months old. At that time with the global developmental delay she couldn't push up, roll over, and reach for toys. She also had a significant torticollis. We were desperate… Just 2 months into the therapy, in the experienced hands of Roxanne Husson and Karen Saggesse, our wonderful therapists, Love was rolling over, and using her hands to play. She started reaching milestones at an amazing speed! She is sitting up now and her neck is straight. I am deeply touched by the level of commitment, care, patience and professionalism my baby receives during each therapy session. Our therapists have given us support, advice, and instruction that helped our family tremendously during these very challenging times. Each therapy session brings our little girl closer to discovering the world around her. And for this we will always be thankful.
P.S. I swear, I am crying now. You are the best
L ove
Natalia.
---
In 2005 our son Cole started here at PT in motion with Roxanne and Kristin. When Cole started, he was unable to sit unassisted, let alone bare any weight on his legs at all. He had poor muscle tone, and would back scoot from one place to another. Cole would cry from the minute we walked in until the minute we left. With the patience and dedication of the ever so caring staff, Cole has achieved what we thought was the impossible. I am so grateful for these wonderful therapists and staff. They came in to our lives when others labeled Cole as "unmotivated and extremely hard to work with." I remember the first time I heard them say we are just going to work through the tears. It took a while, but I was pleasantly surprised the first time he didn't cry through his therapy, at that time I knew we had found the right place for us.  Cole has made amazing progress!  From back scouting, to commando crawling, to tall knees, to weight bearing on his legs for short periods at a time in a stander, working on pulling himself up, then walking with full supports in a gait trainer barely being able to make it move on his own dragging his feet the whole way. Before long we minimized the support and he was running people over! (I have to say I was so proud) Next they started working on independent standing and walking with one on one assistance, and using a tricycle (which I had never imagined in my wildest dreams to be something he would ever be able to do.) Today in 2009, our son Cole is walking independently (running LOL). He is able walk up and down stairs. He laughs from the minute we walk into therapy until the minute we leave. The team of truly amazing professionals has touched our lives in a very special way. I too am typing through my tears word cannot express how wonderful this place is and how truly lucky we were to be referred to PT in motion. Forever grateful!
The Deban Family
---
We have been working with PT in Motion for almost a year now and have benefited greatly as a result. Our son has personally worked with multiple physical therapists and has consistently progressed due to the treatment plan that everyone has stuck to. The facility is exceptionally equipped with toys and devices that assist the patients every visit. The professionalism and communication of the staff is unmatched as well as the flexibility of their scheduling makes PT in Motion such a convenience. Our son always leaves therapy in a great mood and always asks when he can go back and play with "Ms. Ashley".
Anthony Jefferis